Hello dear friends! Welcome to our knitting patterns site. Today, we have chosen a very easy ornamental accessories, a very cute summer hat crochet knitting pattern that everyone can do. It was beautiful and very stylish. Check out this great knitting technique for beginners. We think it will be more than worth it if you find some spare time and start knitting right now. After a pleasant work, you will feel more comfortable at home every day.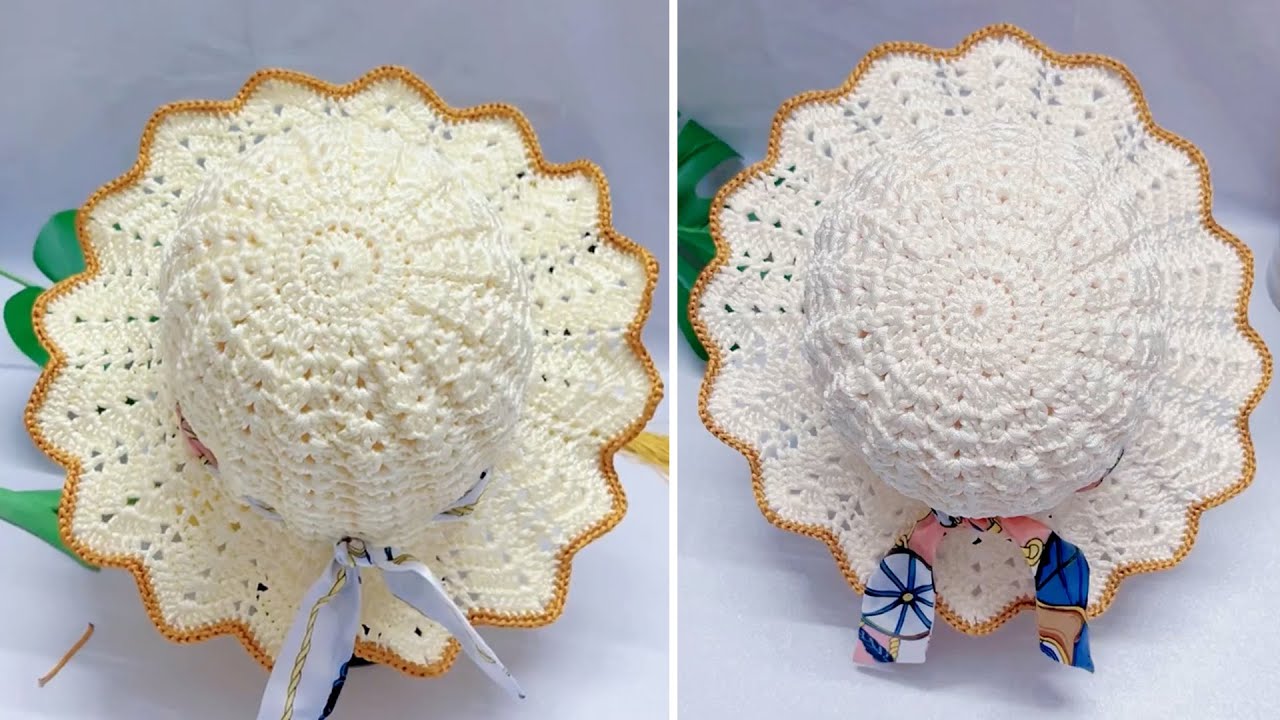 Making a summer crochet hat for beginners can be a fun and rewarding project! Here is a step-by-step guide to get you started:
Materials you will need:
1-Crochet hook (Size H/5.00mm or G/4.00mm usually used for worsted yarn)
2-Worsted weight cotton or bamboo yarn (ideal for summer)
3-Scissors
4-yarn needle
5-Stitch marks (optional)
Instructions:
1-Choose the right yarn: Choose a light, breathable yarn suitable for summer, such as             cotton  or bamboo. Avoid using wool or acrylic yarn as it may be too hot for hot weather.
2-Fabric swatch (optional): Create a small swatch using your chosen yarn and hook to             check
your tension. This step is optional, but it can ensure your hat will fit snugly.
3-Measure your head: To determine the size of the hat, measure the circumference of your      head where the hat band will sit. Note the measurement and use it as a guide when              crocheting.
4-Crochet the tape: Chain multiple loops close to your head size (for example, 70-80 loops).   Join the chain with a scroll stitch to form a ring. Work in rounds using a stitch pattern such   as single crochet (sc) or half double crochet (hdc) until the tape is about 1.5 to 2 inches     wide. You can adjust the height according to your preference.
5-Begin on the body of the hat:
Once the band is at the desired width, choose your preferred stitch pattern (sc, hdc or       double crochet etc.) This will create the top of the hat.
Continue crocheting in rounds until the hat reaches the desired length. You can measure   against your head as you go to ensure a proper fit.
6-Forming the top: You can start reducing loops with each turn to shape the top of the hat.      There are several methods to do this; The common is to crochet (reduce) two stitches     together every few stitches. This will reduce the number of loops and gradually close the     top of the hat.
7-Tie and braid the ends: After the top is closed, cut the thread leaving a tail. Pull the tail           through the last loop on your hook to close. Use a yarn needle to securely knit loose ends.
This much! To begin with, you made yourself a summer crochet hat. Enjoy wearing your handmade creation and compliments that come your way! Remember that practice makes perfect, so don't be discouraged if your first try isn't perfect. Keep practicing and experimenting with different sewing patterns and threads to create more beautiful hats. Happy crochet!
If you like it, don't forget to like, share,Subscribe to our site and turn on the notification bell.To all my Subscribers and all my followers,Thank you for liking and appreciating my work,Thank you for your comments.
VİDEO TUTORİAL :
How to Make a Summer Crochet Hat for Beginners ?