Very easy Tunisian technique flower motif making Creating a simple Tunisian crochet flower motif is a lovely and straightforward project. Tunisian crochet, also known as...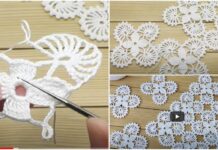 Very easy square motif crochet / Crochet motif tutorial patterns for beginners The granny square is one of the most popular crochet motifs, and for...
Hello dear friends! Welcome to our knitting patterns site. Today, we have chosen a very easy crochet very easy knitting pattern that everyone can...